Project and Objectives
Digital transformation is tough for any firm, but positively Herculean for a $9 billion industrial manufacturer. The world's largest bearings producer, Sweden-based SKF is currently in the midst of this epic journey. Central to its transformation is moving from a regional to a global integrated planning model.
The pressure to stay in the pole position came from anticipating potential competitive threats. As Jörg Schlager, SKF's Business Transformation Manager - Demand Chain, explains, "Airbnb is the world's largest housing provider, yet owns no hotels. Uber is the world's largest taxi company, yet owns no vehicles. What if a competitor emerged that could become the largest bearing supplier without producing any bearings?"
This possibility of potential industry disruption provided the impetus for SKF to fulfill its new demand chain vision. With 17,000 customer distributors/dealers in 130 countries, the company and its partners had become accustomed to operating locally. A large team of dedicated planners were responsible for managing service levels and inventory fed by regional and factory warehouses. Each portion of this multi-tier organization was planned towards a local optimum. There was limited alignment between regional forecasts and there could be potentially different planning methods and parameters in each region. Planners often wound up vying for the same products and resources.
SKF set out to create a global planning approach with the goals of improving both effectiveness and efficiency. Besides wanting to move to more globalized planning and optimization, it also sought to plan "dependent flows" together - that is planning all the globally interrelated end-to-end activities associated with each item. SKF saw potential to improve efficiency through a high level of automation across the demand chain.
SKF engaged its local partner Optilon to implement ToolsGroup's SO99+ for demand planning, inventory optimization and distribution planning. The implementation followed a four-phase process; Feasibility, Proof of Concept, Pilot, and Deployment. Jörg calls this approach "first trust, then thrust".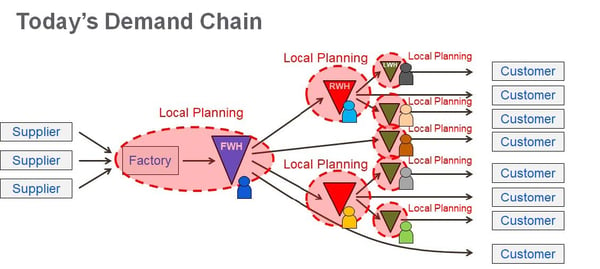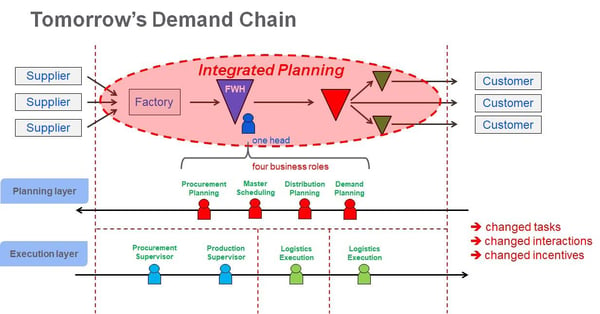 Day-to-Day
The new approach supported by SO99+ prompted SKF to make a major shift in its planning organization. Rather than planners being organized by local units, they now have global product responsibility. Each product has "one global forecast, one planning method, one responsibility, and true end-to-end accountability," says Jörg.
Each planner owns the forecast and inventory globally and an end-to-end plan that is responsible for achieving external customer service targets, as opposed to multiple independent organizations, often with more internally-focused targets. Deviations are handled globally, even though execution is often addressed locally.
With the new model, each planner is responsible for multiple roles including procurement, master scheduling, distribution and demand planning (although not execution, which is separate). In their new roles, these "global planners" handle inquiries from all regions. "With great power comes great responsibility, Jörg half-jokingly quotes superhero Spider-Man.
As in any large project, SKF has faced many challenges along the way. A "digital twin" of the entire distribution network was required for planners to make global decisions based on full data visibility and full control of their reference data. As Jörg says, "If you are going to travel safely on autopilot, take care of your input." This required a significant amount of master data cleansing and master data management for 800,000+ SKUs across 40 installations of 5 different systems.
Results and benefits
So far twenty-two warehouses have achieved full "autopilot" status for the assortment supplied by two of their major factories.
The new approach has also significantly improved SKF's ability to handle exceptions and inquiries. While multiple time zones present a challenge, it can still respond faster than before because it eliminated process latency.
The evolving organization also aligns better to the Supply Chain Council's SCOR model – a diagnostic tool for benchmarking performance. Whereas previously functional groups had been managing multiple roles, the new approach allows, for example, the sales team to focus on selling. Planning moves to the factories, consolidating the Source, Plan, and Make functions into one organization, with Logistics focused on Deliver. It makes end-to-end optimization possible, empowers the team, and reduces internal competition.
SKF is looking ahead to the next transformation in the context of what some are calling "Industry 4.0". This next step involves increasing the "clock speed" of the planning cycle by taking advantage of real-time data from MES, logistics and even smart data from sources such as sensors or the web. This type of data could further reduce latency, allowing for even faster optimization and response. He foresees a new highly automated approach that includes increasing customer response speed and reducing internal waste.