Project and Objectives
Before deploying ToolsGroup Ruth du Toit, master planner for Tiger Brands Beverage Division, had already developed and implemented planning systems for successfully running the business. Customer service levels had improved to the maximum that their current processes allowed.
Tiger Brands believed, however, that further gains were possible and there was also a certain risk in one person managing all the planning functions. They decided to invest in an advanced planning system (APS) to address these needs. Ruth became the customization and implementation project lead.
The objective was to:
Improve demand forecasts
Increase customer service levels from an average 80% to above 90%within 12 months
Optimize supply plans
Improve planning responsiveness (agility, speed of re-planning)
Improve scenario planning
Day-to-Day
The new system went live four months from the start of the implementation. Certain key modules, such as forecasting, were up and running sooner.
In a single integrated application, the solution contains forecasting, demand planning, inventory optimization and replenishment planning. Demand Planning includes monthly, weekly and daily forecasting, seasonal profiles, and commercial overrides. Inventory Optimization minimizes inventory cost and includes heterogeneous stocking policies for different SKULs. Replenishment Planning covers both manufacturing/purchasing and deployment requirements, as well as rough cut capacity planning.
The system and the APS model are quite comprehensive, covering all active items, co-packer provided products, the factories, and all outbound supply chain depots. Other key deliverables included statistical safety stock calculations, seamless integration with the ERP system, and integration with the sales and operation planning (S&OP) process.
Results & Benefits
The main benefit of the new planning system was improved service levels, which methodically climbed to above 90%. In addition, rather than being up one day and down the next, service levels became much more consistent.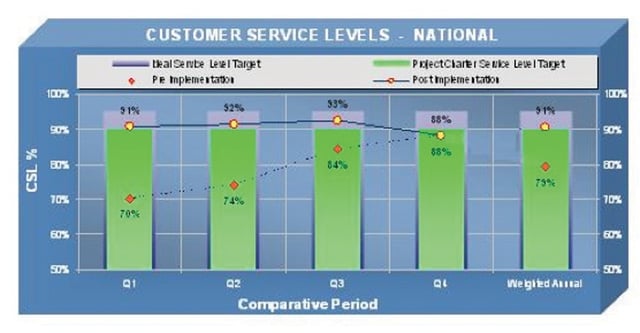 Although the company had hoped to eventually reduce inventory levels, since it was unclear how much levels could drop before impacting service, inventory improvements were not budgeted in the project deliverables. However, inventory reductions were achieved sooner than anticipated, resulting in working capital savings, improved warehouse space utilization, and logistics cost savings.